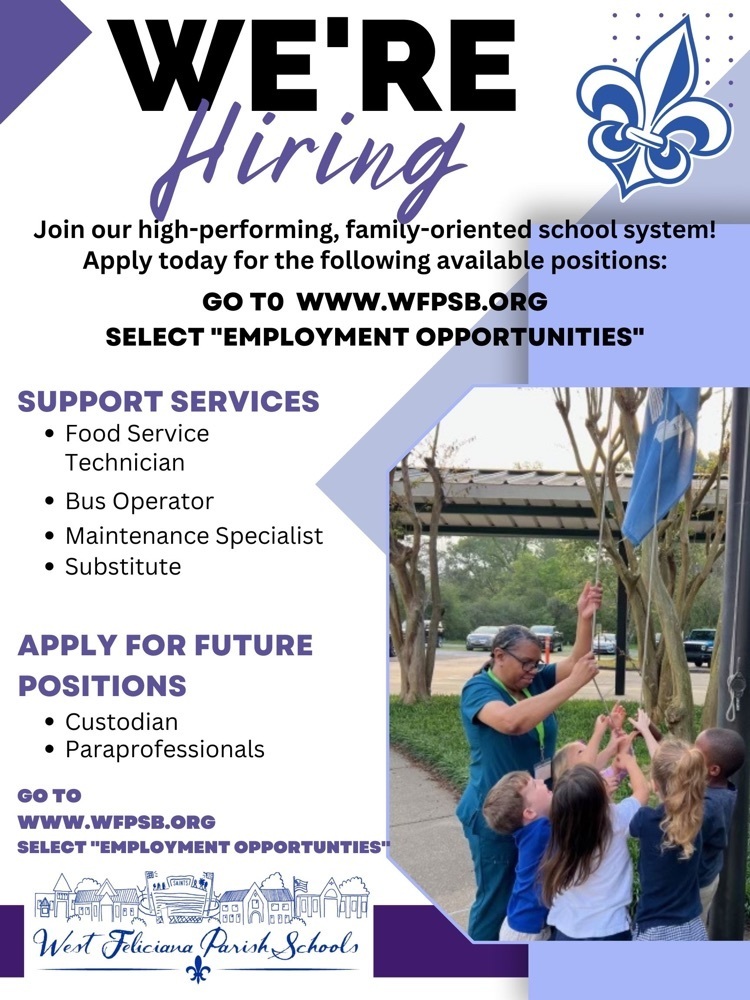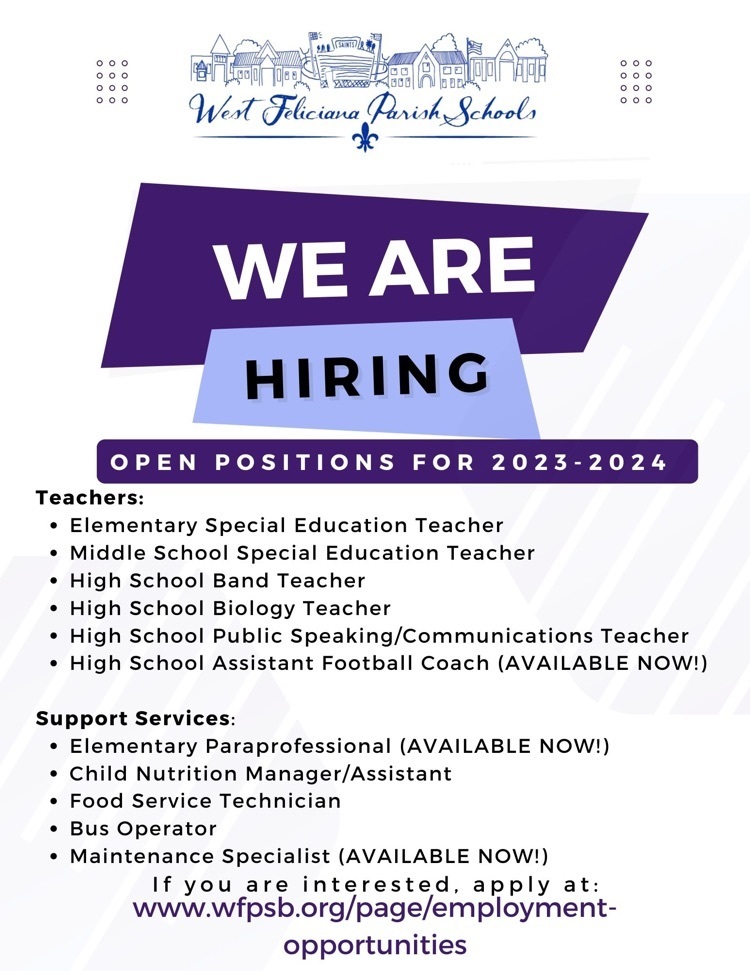 CONGRATULATIONS Gannon Ford, Bains Elementary 5th grade student, who was selected as a Louisiana Student of the Year state finalist! #wearewestfel #gratefel #GoSaints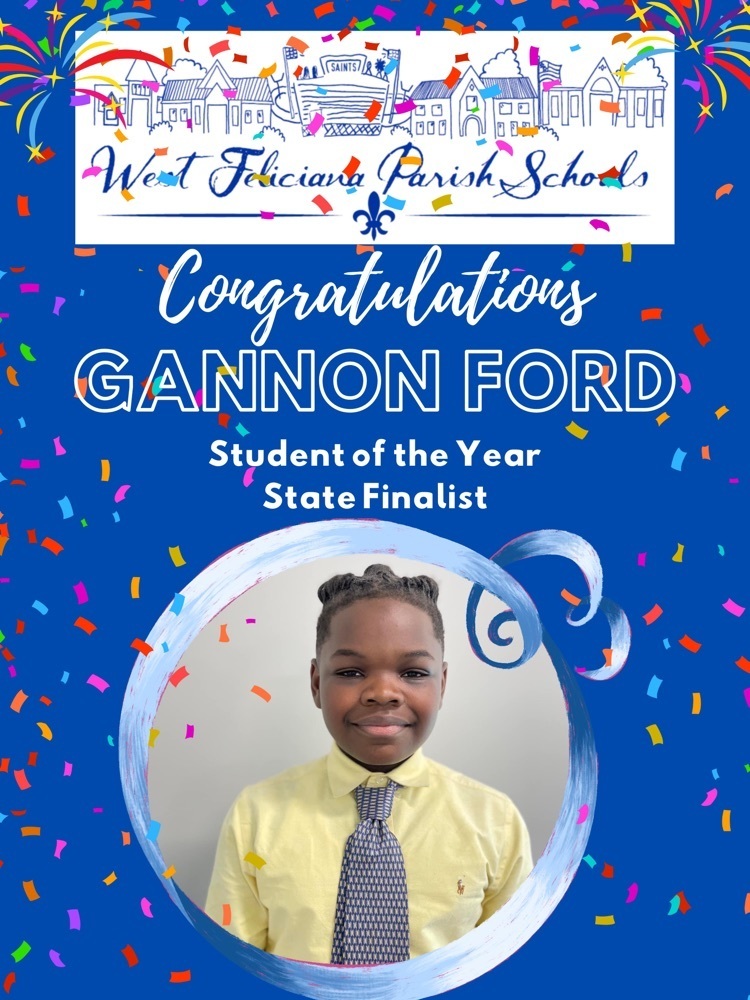 West Feliciana Parish Schools will host its annual Teacher Job Fair on March 4 from 9:00-2:00 at West Feliciana Middle School! Sign up for an interview today before the appointments fill up! #gratefel#wearewestfel #GoSaints
https://www.wfpsb.org/o/district/page/job-fair-2023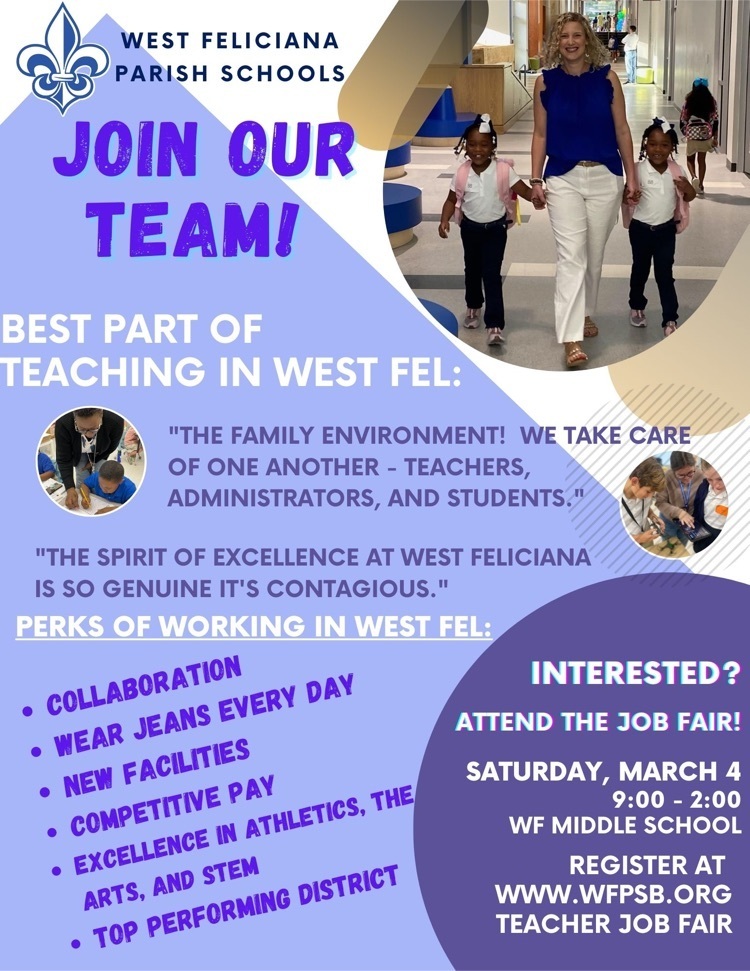 From West Feliciana Parish Schools: Good Afternoon, All West Feliciana Parish Schools will be closed Wednesday, December 14, due to the threat of severe weather and hazardous road conditions. We will still have tutoring and after-care today, Tuesday, December 13. Extra-curricular activities and athletic practices are cancelled Wednesday, December, 14. We hope you all stay safe!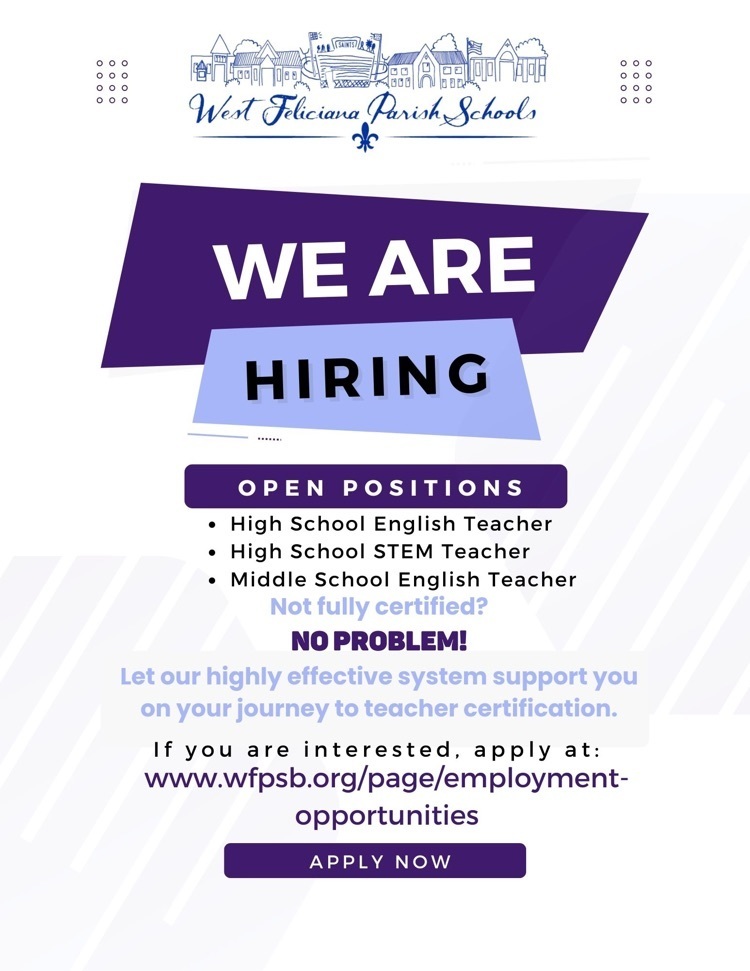 CALLING ALL SPEECH PATHOLOGISTS! It's time to take advantage of great benefits and come work in the new, beautiful elementary school! Apply today:
https://www.applitrack.com/WFPSB/onlineapp/
#wearewestfel #gratefel #werehiring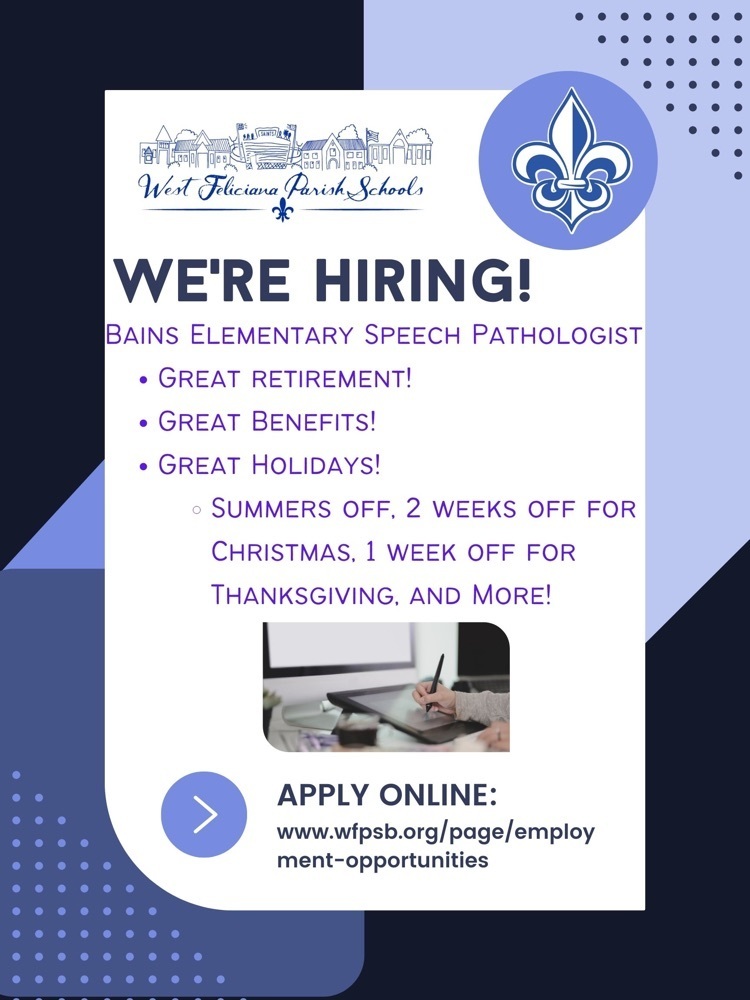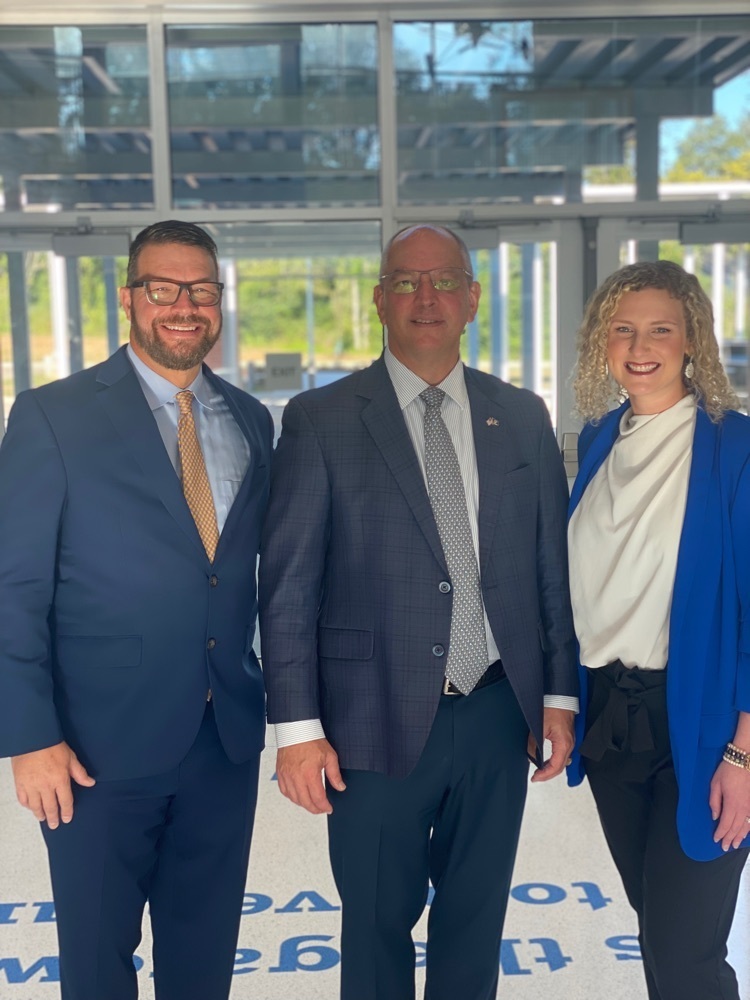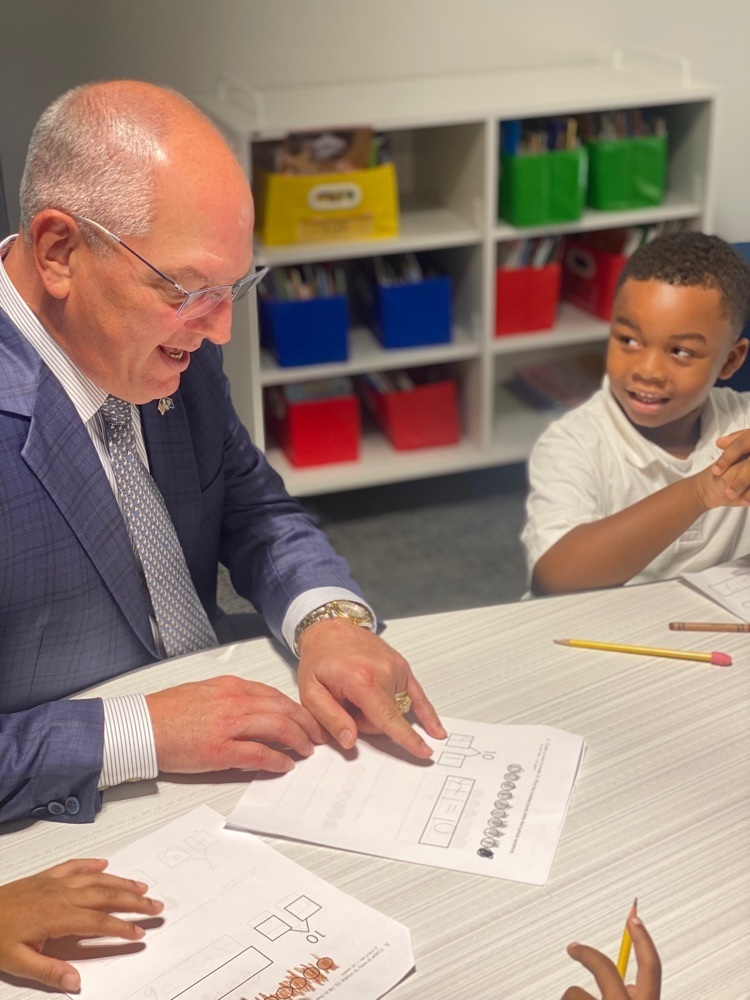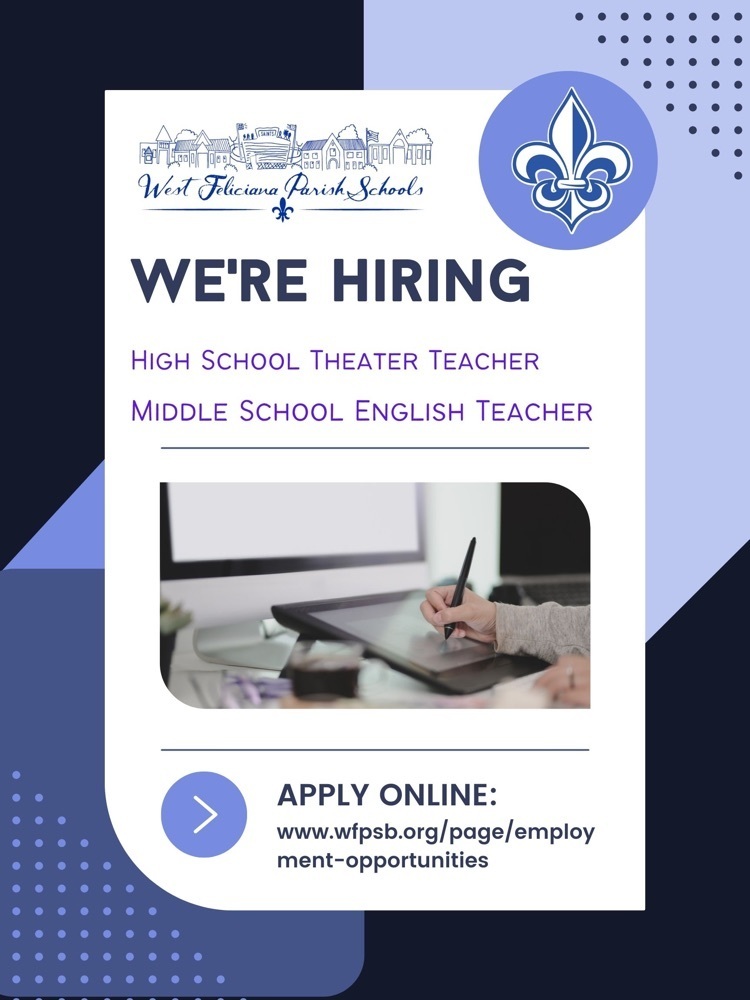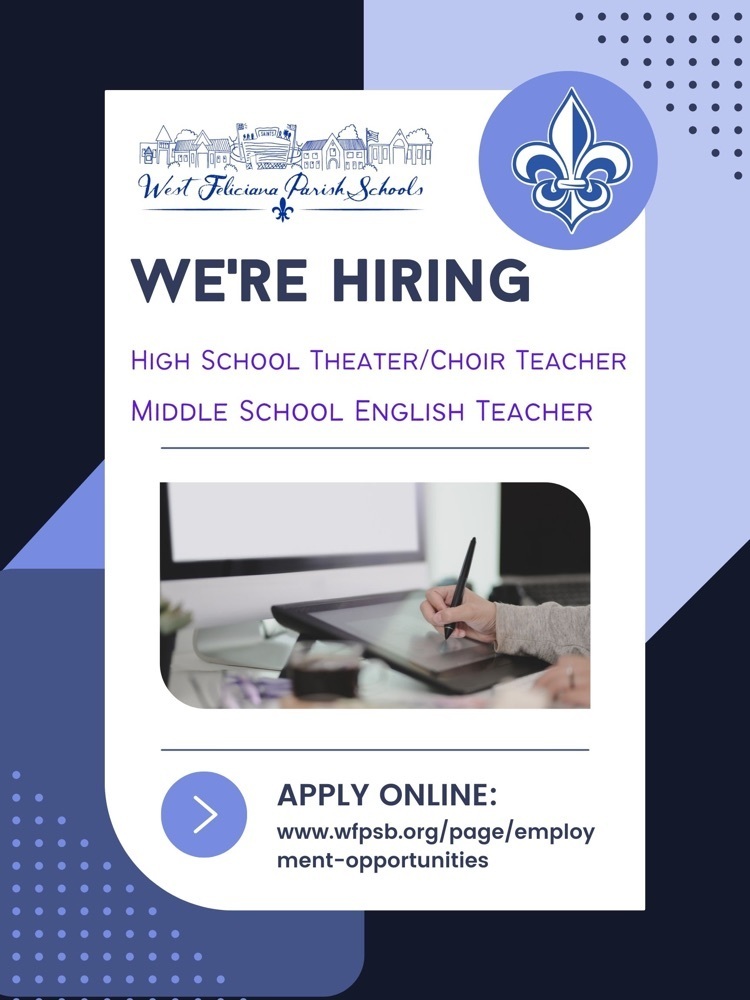 Don't miss the back to school drive-thru sponsored by Happi Landiers!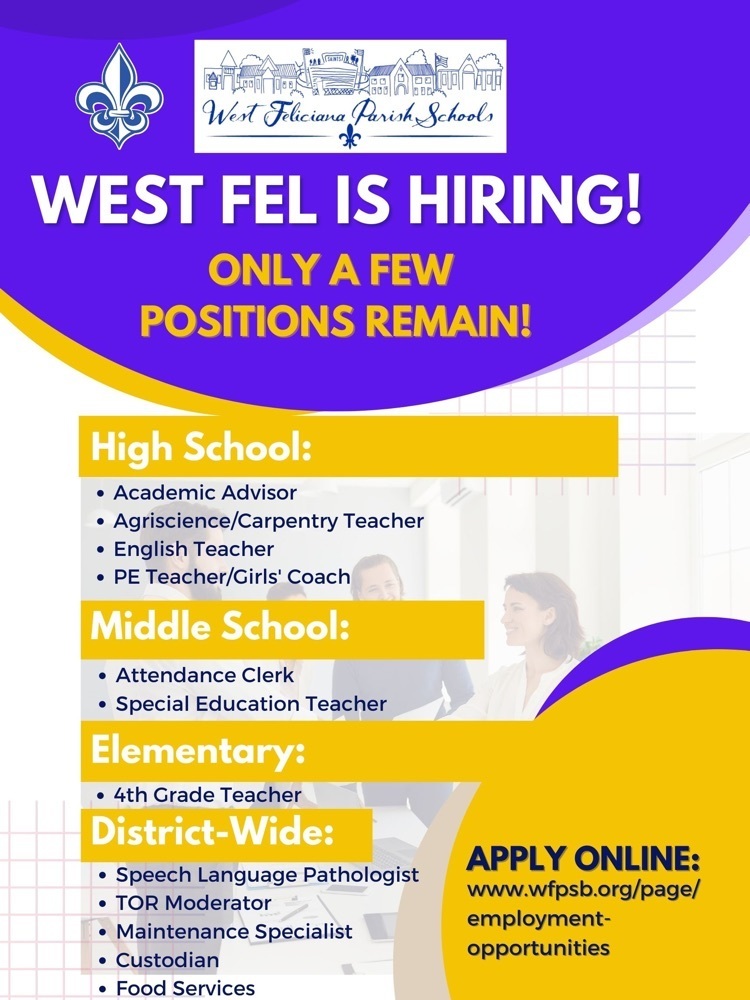 West Feliciana Presents at National Conference on Early Childhood Literacy Success! West Feliciana representatives, Superintendent Hollis Milton, Accountability Director Jodi Lemoine, Bains Lower Assistant Principal Tonya Holliday and Bains Lower Reading Interventionist Christian St. Romain, present on Early Childhood Success at the American Association of Schools Superintendents Learning Council 2025 in Washington DC. "It was a huge honor for us as only a few districts in the nation are chosen to present. We are so grateful for our teachers, administration and all employees who support our students every day." -Superintendent Hollis Milton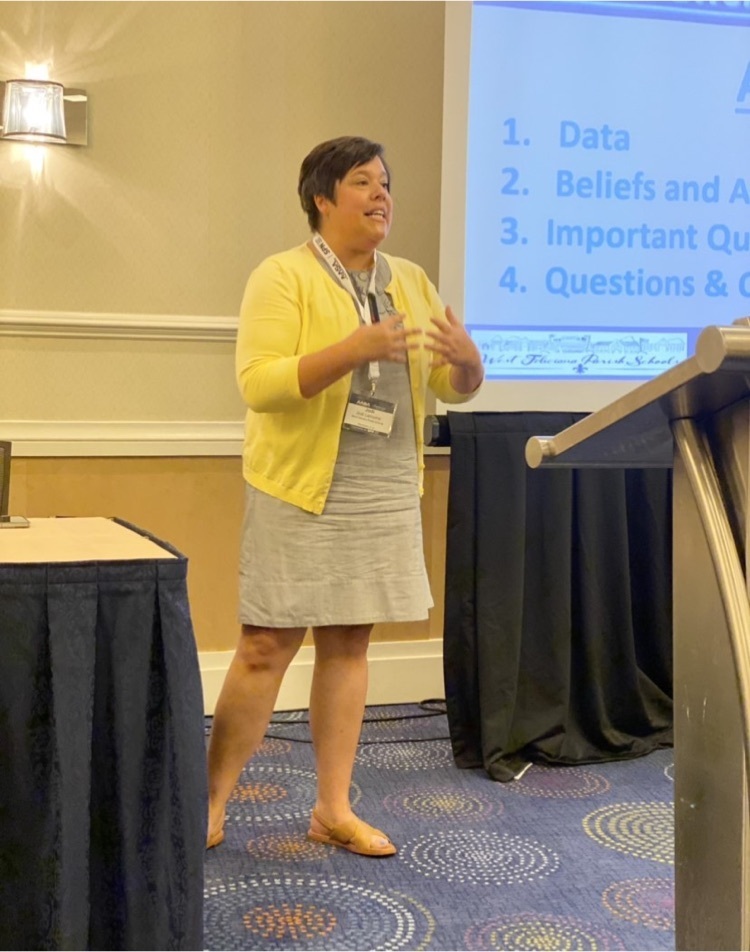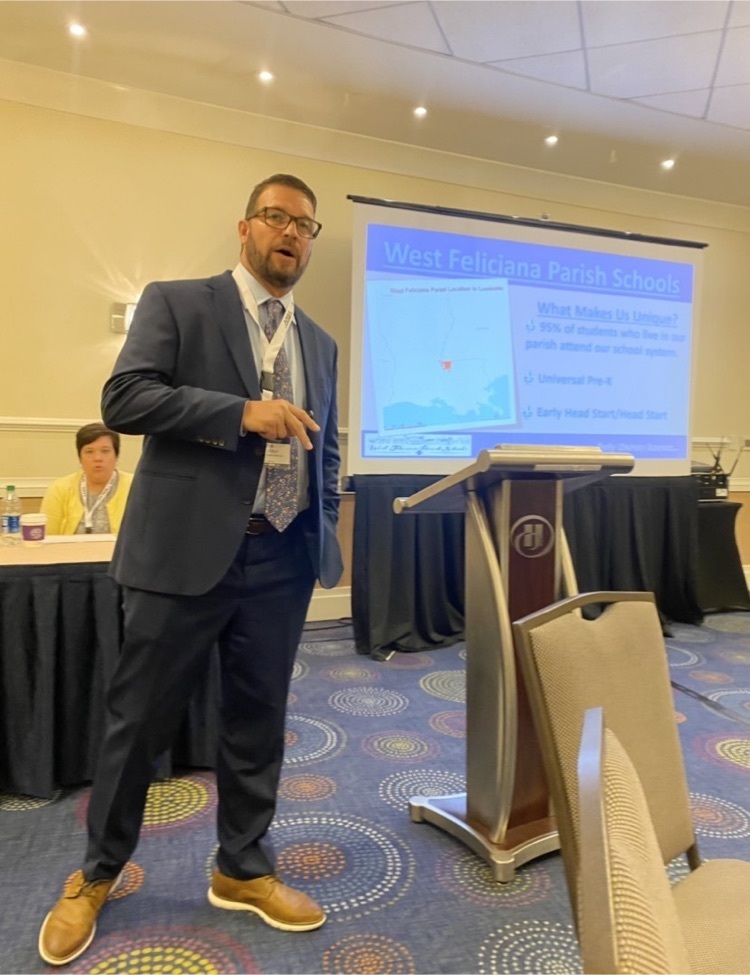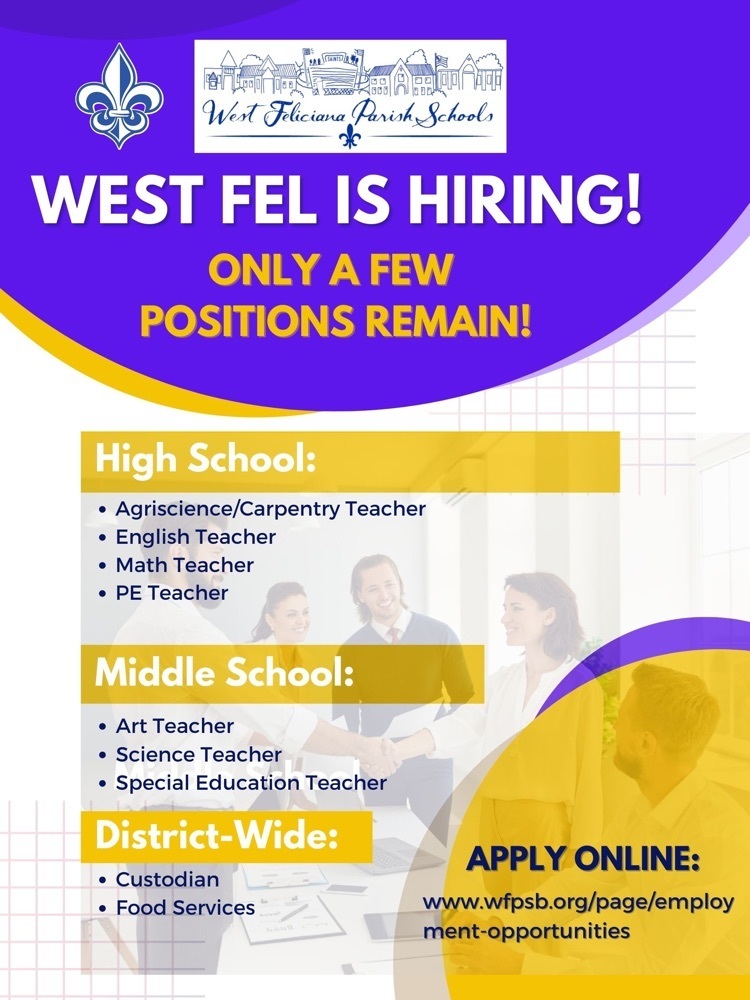 Don't forget to schedule an interview for our job fair tomorrow, June 8! Call the school board office today at 225-635-3891 to join the West Fel Family! #1WF #wearewestfel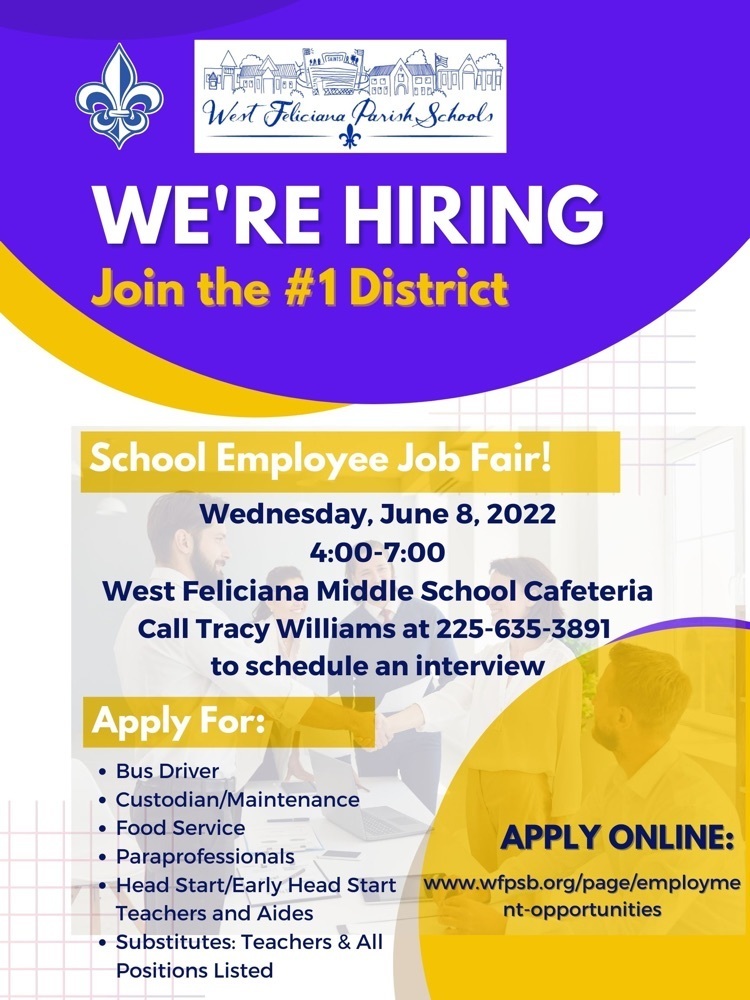 Students are back in the classroom this summer for a Driver's Education course! #wearewestfel #gratefel #1WF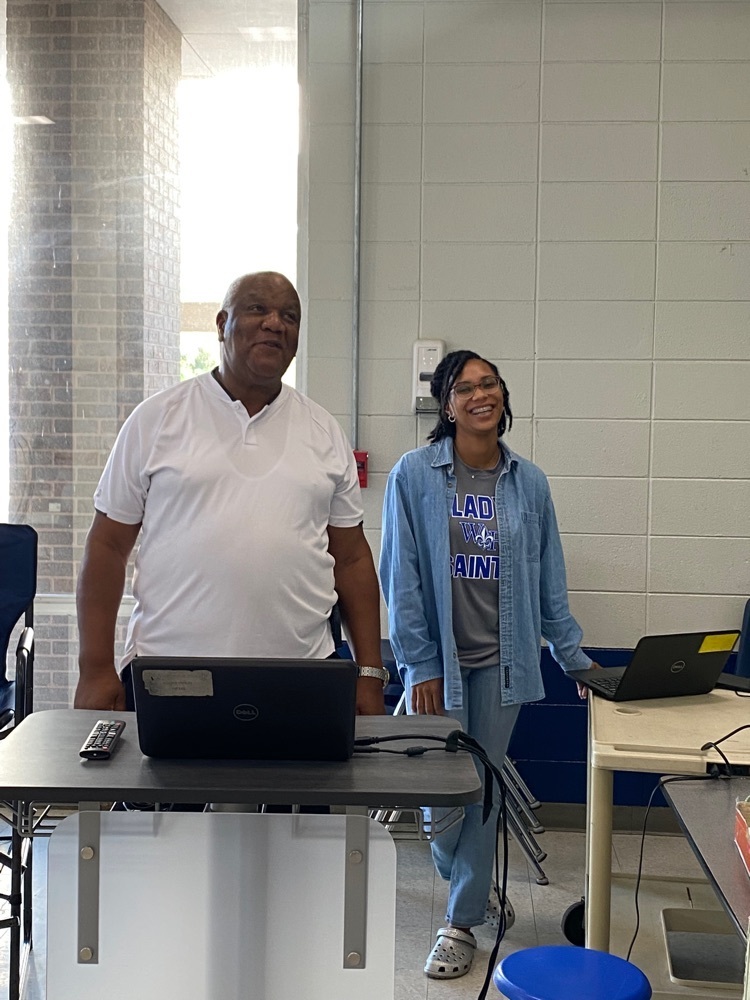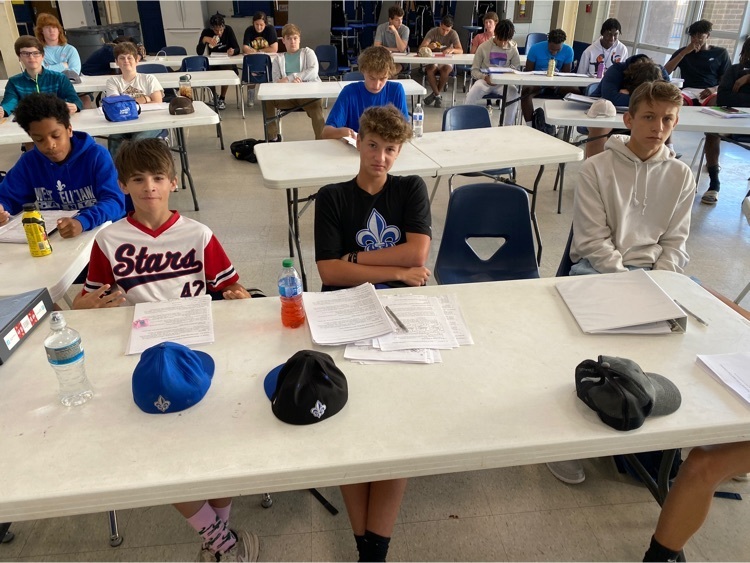 Juliana Habisreitinger, WFMS teacher, is recognized at the LDOE Teacher Leader Summit for being a finalist for New Teacher of the Year! #wearewestfel #gratefel #1WF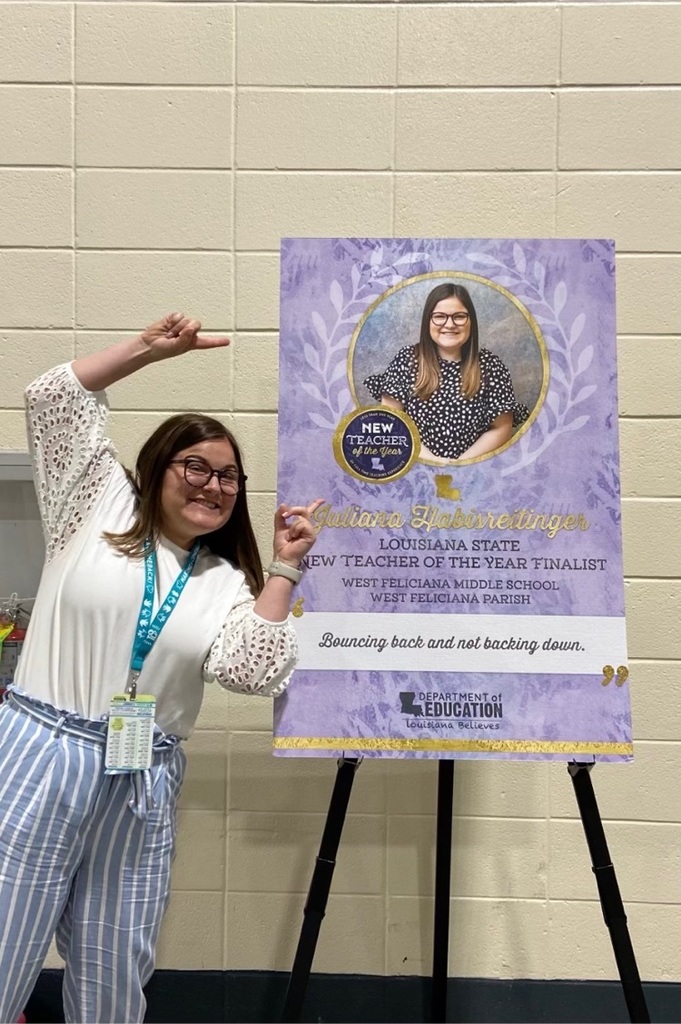 Bains Lower Elementary educators presents their highly successful literacy initiative at the Teacher Leader Summit in New Orleans! #wearewestfel #gratefel #1WF