Students may wear a red, white, or blue school appropriate shirt with uniform bottoms on Friday, September 10th as we honor and remember the events that occurred on 9/11.

$1.00 Jean Day on Friday, August 27. Students can pay $1.00 to wear their WFHS spirit shirt or WFHS athletic shirt with school appropriate jeans. Outerwear rules still apply!

Homecoming was on the calendar as September 10. However, with the recent surge in cases, we were concerned about the activities involved with Homecoming. We do not want to cancel the Homecoming activities, so at the school board meeting on August 17, we asked the board to approve a calendar change that would postpone Homecoming to October 15. By pushing the date back, we have more time to evaluate the COVID cases in the state and region and prepare safety protocols to keep our students and community members safe and healthy. The board approved the calendar change, so Homecoming will now be October 15. September 10 will be a full day of school, and October 15 will be a half day of school. We apologize for any inconvenience. Student safety is our top priority, and we hope this change will allow us to have the traditional Homecoming activities.

With the surge in cases in the state and region, we are cancelling Open House to protect our students and family members. Safety is always our top priority. We will explore future opportunities to allow parents to meet the teachers. WFHS Meet the Saints event is also postponed; a future date will be announced in the coming weeks. We apologize for any inconvenience these changes have caused. We ask for patience and flexibility again as we continue to have traditional school and related activities to the best of our ability!

The Adolescent Pre-Diabetes Prevention Program sent home consent forms through 9th-grade Homeroom classes. Please sign and return these forms to your Homeroom teacher by Monday, August 23.


Don't Forget....There is NO Web-Based Wednesday during the 2021-2022 school year. Students will be on campus five days a week! A monthly calendar is posted on Facebook, Instagram, and under School Updates on the website.

WFHS STUDENT ORIENTATION INFO!!! 10th/11th Grade- August 3 8:00-11:00 in WFHS auditorium (Students can come any time between 8-11) 9th Grade- August 3 1:00-2:30 in WFHS gym (Parents and students should arrive at 1:00 for an information meeting) Senior Boys- August 2 8:00-4:00 in WFHS auditorium (Lifetouch will email appointments) Senior Girls- August 4 8:00-4:00 in WFHS auditorium (Lifetouch will email appointments) Students will meet faculty and staff, take ID/yearbook photos, tour the campus, pick up course schedules, pay fees, and purchase PE uniforms. Parking permits will also go on sale August 2 and 4 for seniors, August 5 for juniors, and August 6 for sophomores. If you have any questions, please email Ms. DeSalvo at
DesalvoH@wfpsb.org
or Mr. Cutrer at
CutrerB@wfpsb.org
.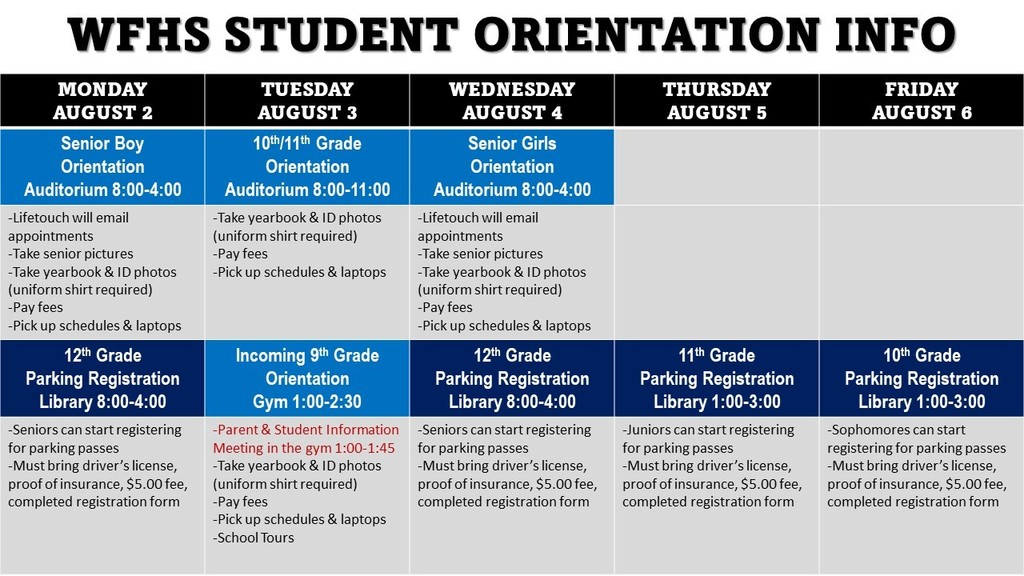 The West Fel Athletic Department is hosting a summer program for students (boys & girls) in grades 3-8. Please see the flyer below to explore how your future Saint can be involved! Sign those kiddos up today!!!
https://forms.gle/aSJw8rmg1rMUUbpE9

US History and Biology LEAP 2025 testing continues and AP testing starts today!!! Make sure you are getting a good night's rest and eating a healthy breakfast before testing. Go Saints!!!


Parents, Students, Faculty, and Staff: IT'S FINALLY YEARBOOK TIME!! Thank you for your patience and support. The 2020 yearbook will be distributed February 18th-19th. Students can pick up their books in the Commons Area during their lunch shifts on designated days. 11th and 12th grade can pick up books on February 18th. 9th and 10th grade can pick up books on February 19th. Students can check the list outside Mrs. H's classroom, Room 210, to see if they have purchased the 2020 yearbook. Middle school students will receive their books February 18th-19th. We have a few 2020 yearbooks left for those who did not purchase one! They are $50 and can only be purchased through the school. Please email
reapl@wfpsb.org
if you would like to purchase one. WFHS yearbook staff will also be selling the 2021 yearbook! Save $10 by purchasing your 2021 yearbook today! 2021 yearbooks are on sale for $40. The price of the 2021 yearbook will increase after March 1st. Yearbooks can be purchased online through this link:
www.yearbookordercenter.com/index.cfm/job/463
Also... if you want to be featured in the 2021 yearbook, PLEASE send us pictures! You can upload pictures through eShare (
www.hjeshare.com
or download the eShare app) using the code westfel. Thank you for your support! Cheers, 2021 WFHS Yearbook Staff

Don't forget to order your 2020 yearbook! "y[OUR] story, vision being a Saint" is our theme this year! It's going to be AWESOME! Senior Ads are available to purchase as well. Don't miss out! Link buy a yearbook or Senior Ad:
https://www.yearbookordercenter.com/
Order Number: 463

2019 yearbooks are here! Yearbooks will be distributed Monday during both lunch shifts. If you are not sure if you have purchased a book, check the buyers list in the commons area. Save $10 buy purchasing your 2020 yearbook now! We are also selling Senior ads! To purchase either of these items go to
www.yearbookordercenter.com
and use job order 463, or pick up an order form in the front office!

Buy your 2020 Yearbook Now! Senior Ads are available for purchase as well! Don't miss out!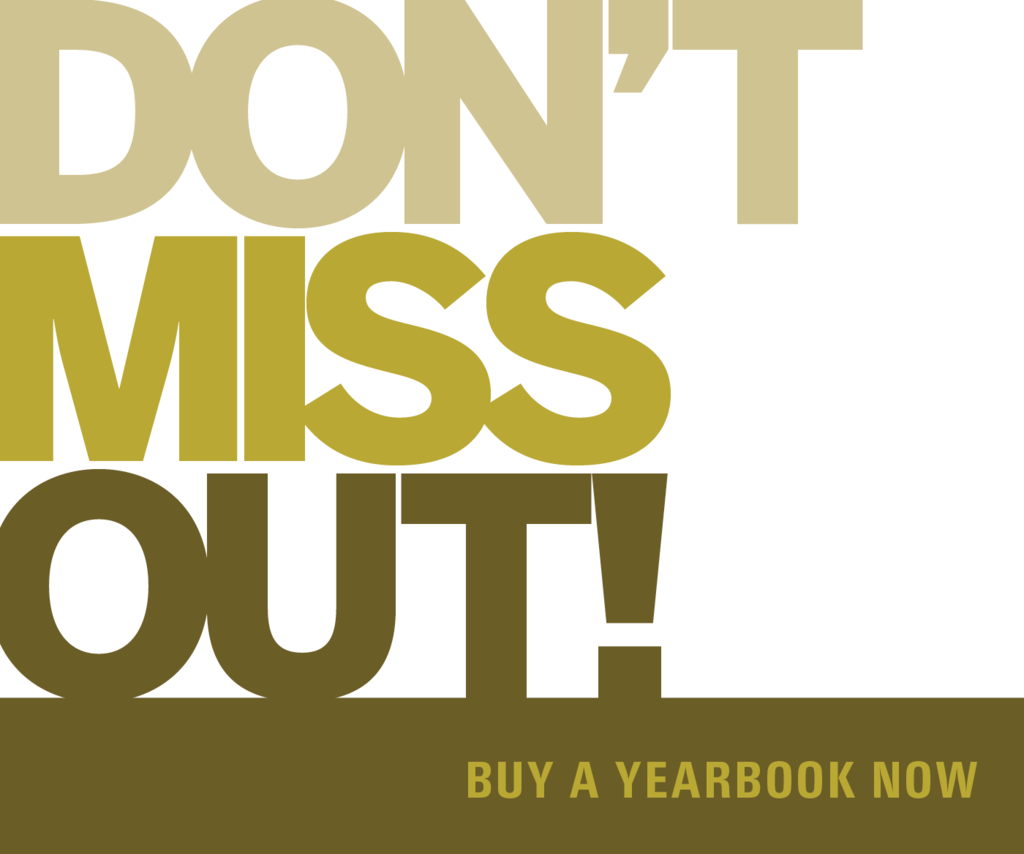 WFHS vs. Madison Prep @ 7:00 PM -Senior Night & AP Recognition Ceremony at Halftime
Don't forget to donate food for the Class Wars Food Drive!!!

Congratulations to the Lady Saints Soccer Team for their Bi-District Playoff Victory over Parkview Baptist!!!! They are headed to play St Louis in the Regional round next week. More info to come! Go Saints!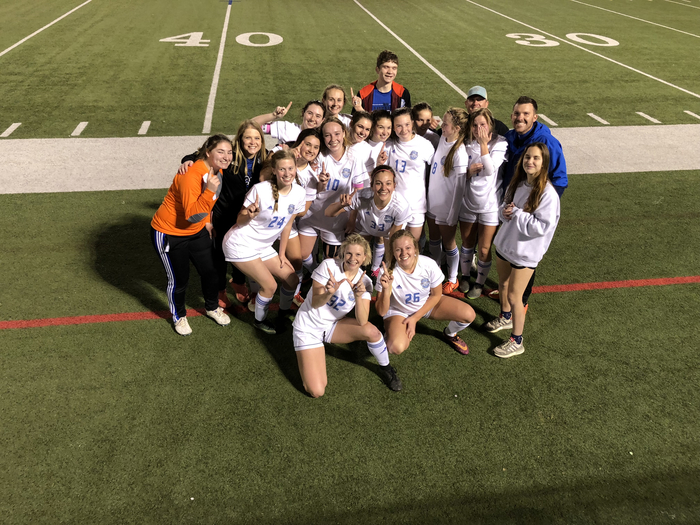 After School Tutoring Schedule Fall 2018

Quote Contest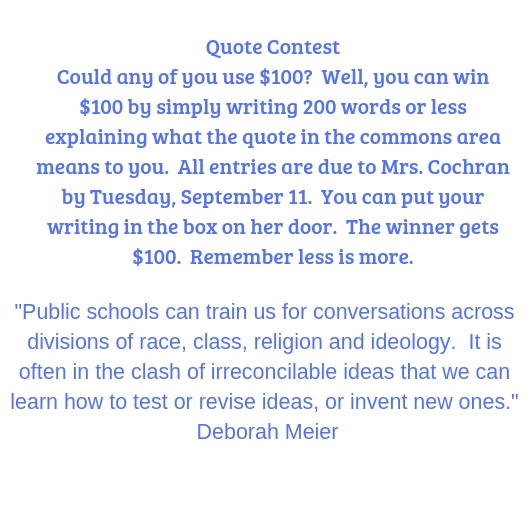 Homecoming Dress Day Flyer 2018