WFHS Weekly Schedule September 4-8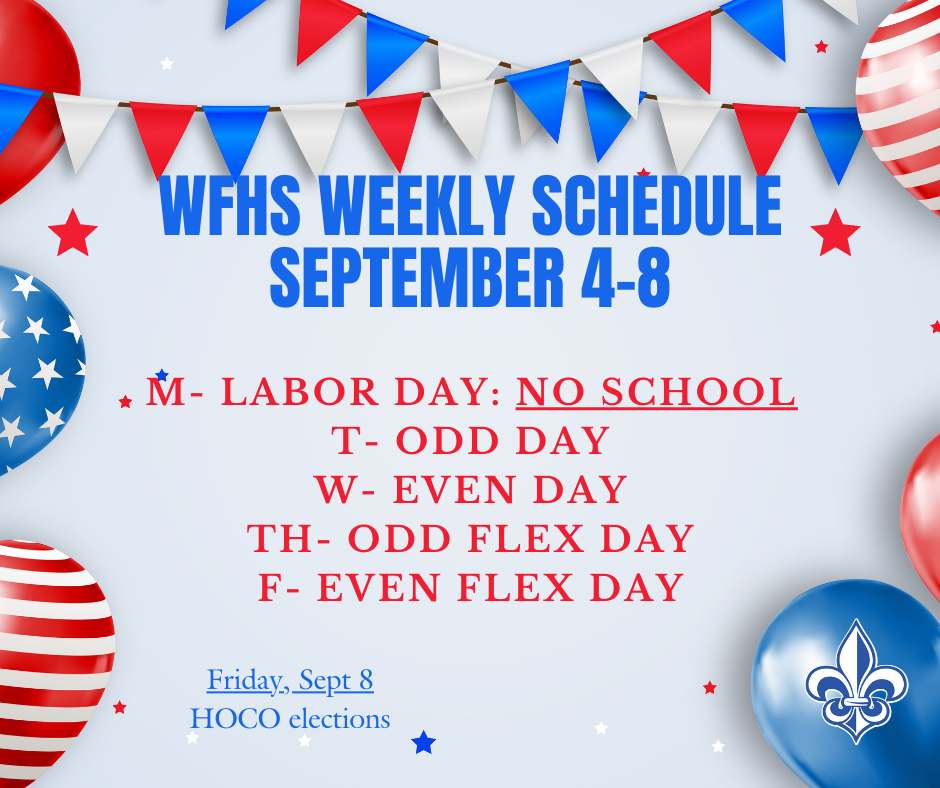 WFHS Weekly Schedule August 28-September 1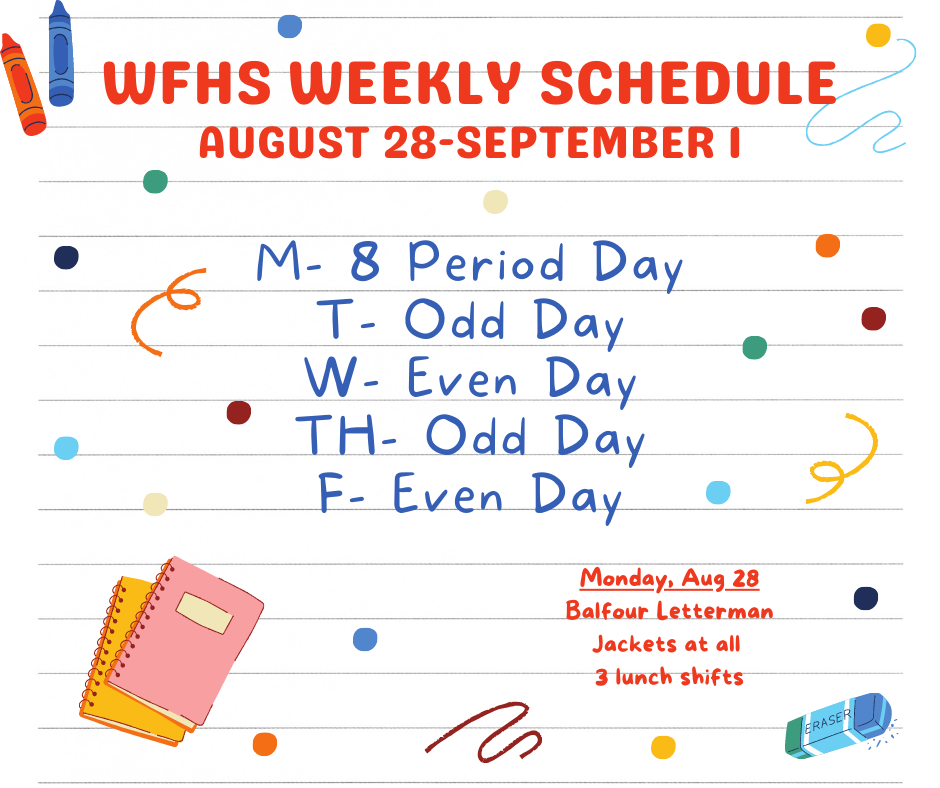 $2 Neon Free Dress Day... Students can wear neon head-to-toe or a neon shirt with jeans on Friday, August 25 to celebrate STAR testing for $2 (cash or check). Free dress rules apply!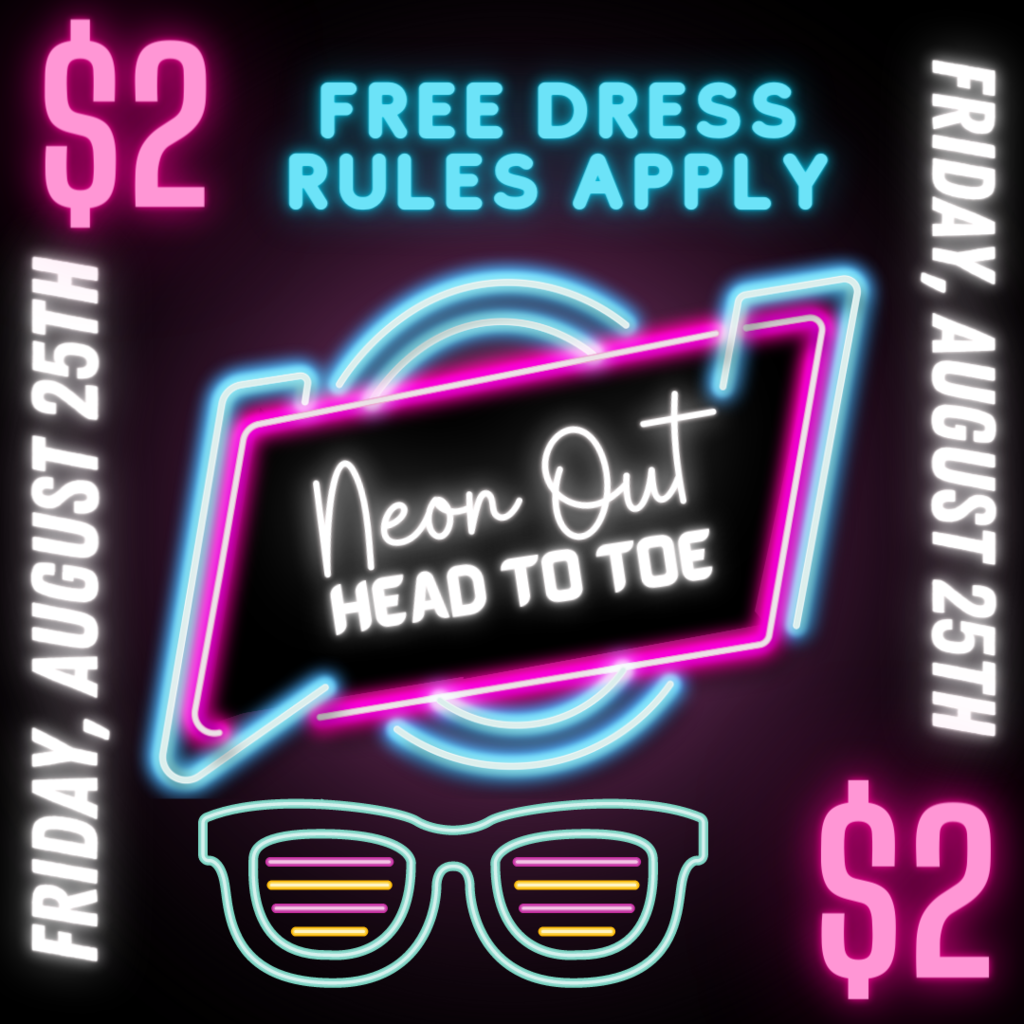 WFHS Weekly Schedule August 21-25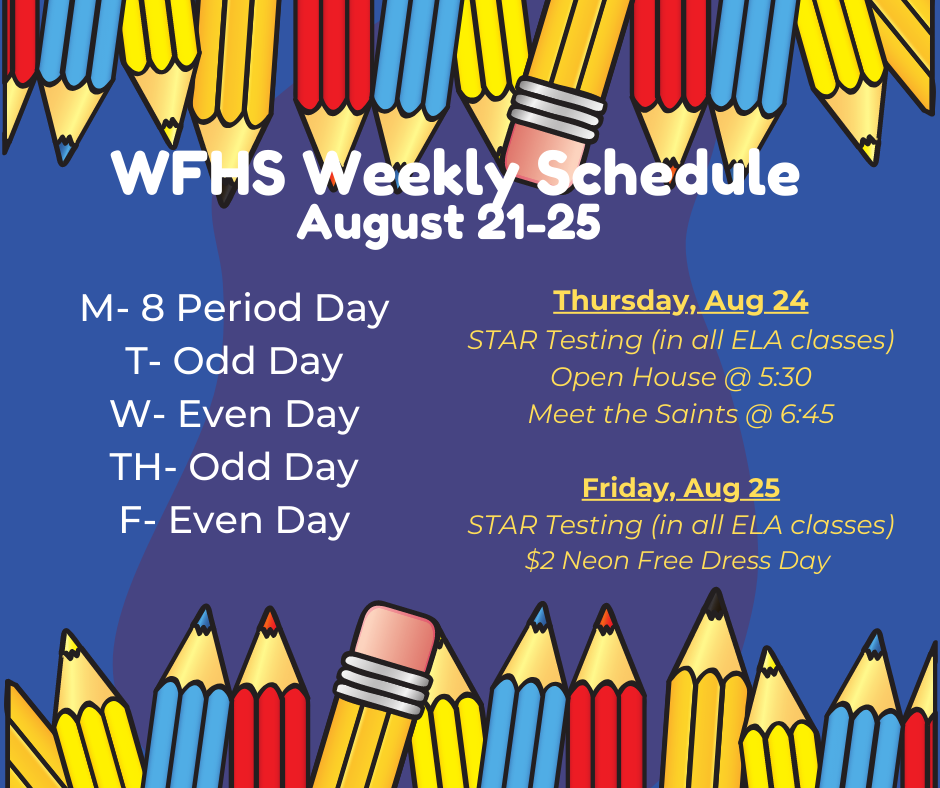 WFHS Weekly Schedule August 14-18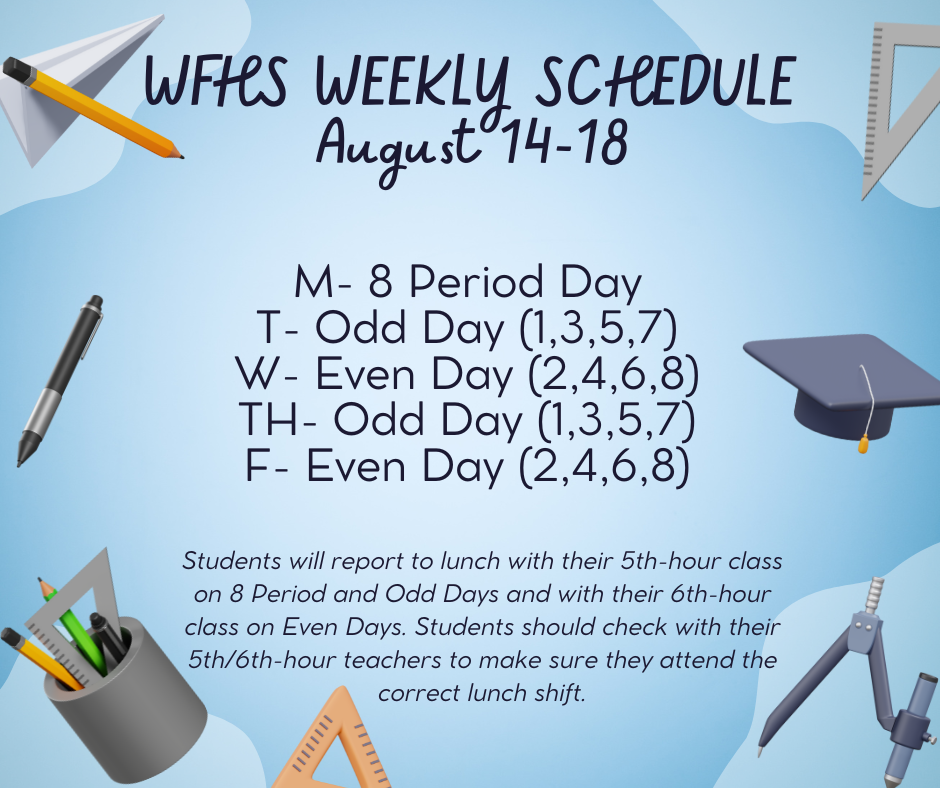 WFHS Weekly Schedule August 7-11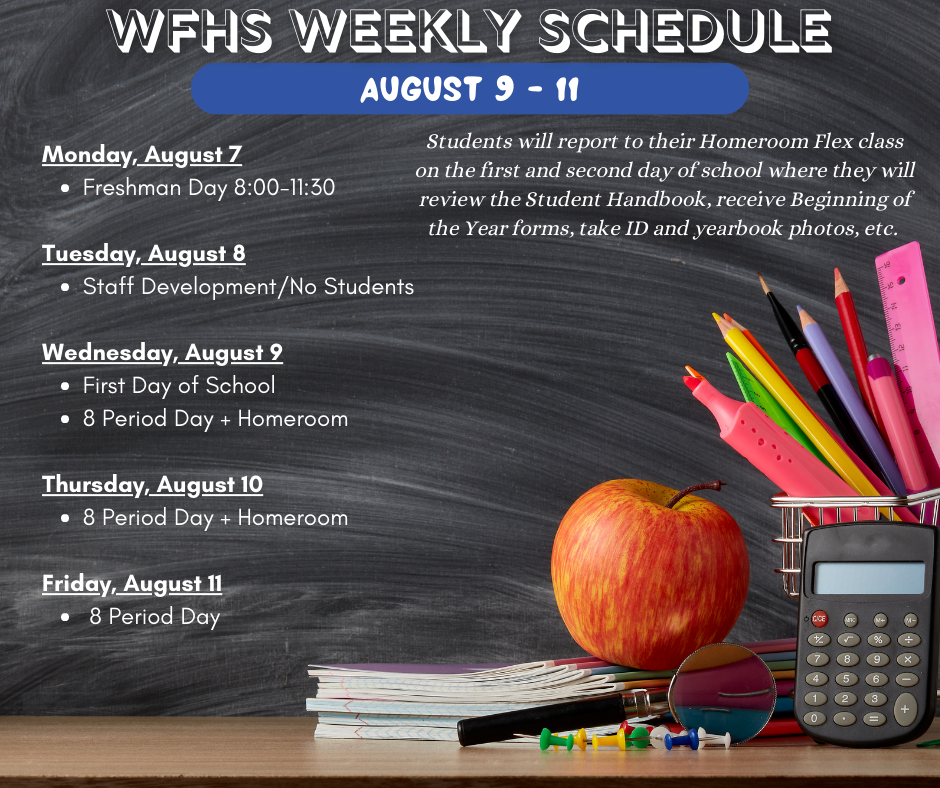 Don't forget about Summer Reading! You must select a book from the Summer Reading list that is posted on the website!

West Fel Families will be selling snacks and drinks at all 3 lunch shifts on Friday, March 17. Make sure to bring your cash!!!

Friday, March 17--Students can pay $1 to wear a green shirt with jeans to celebrate St. Patrick's Day!!!

Save the Date for the WFHS Scheduling Fair! Dinner plates and concessions will also be sold from 5:00-7:00 pm.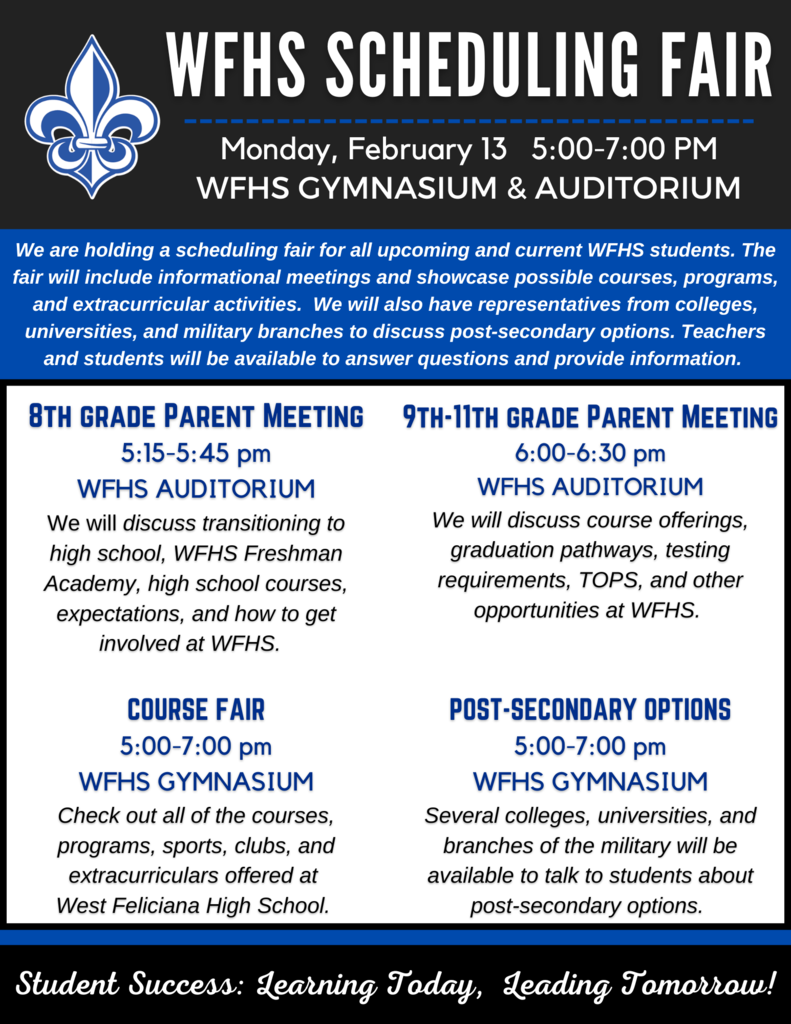 Attention Juniors and Seniors! Sign up for Saints ACT Academy today!!!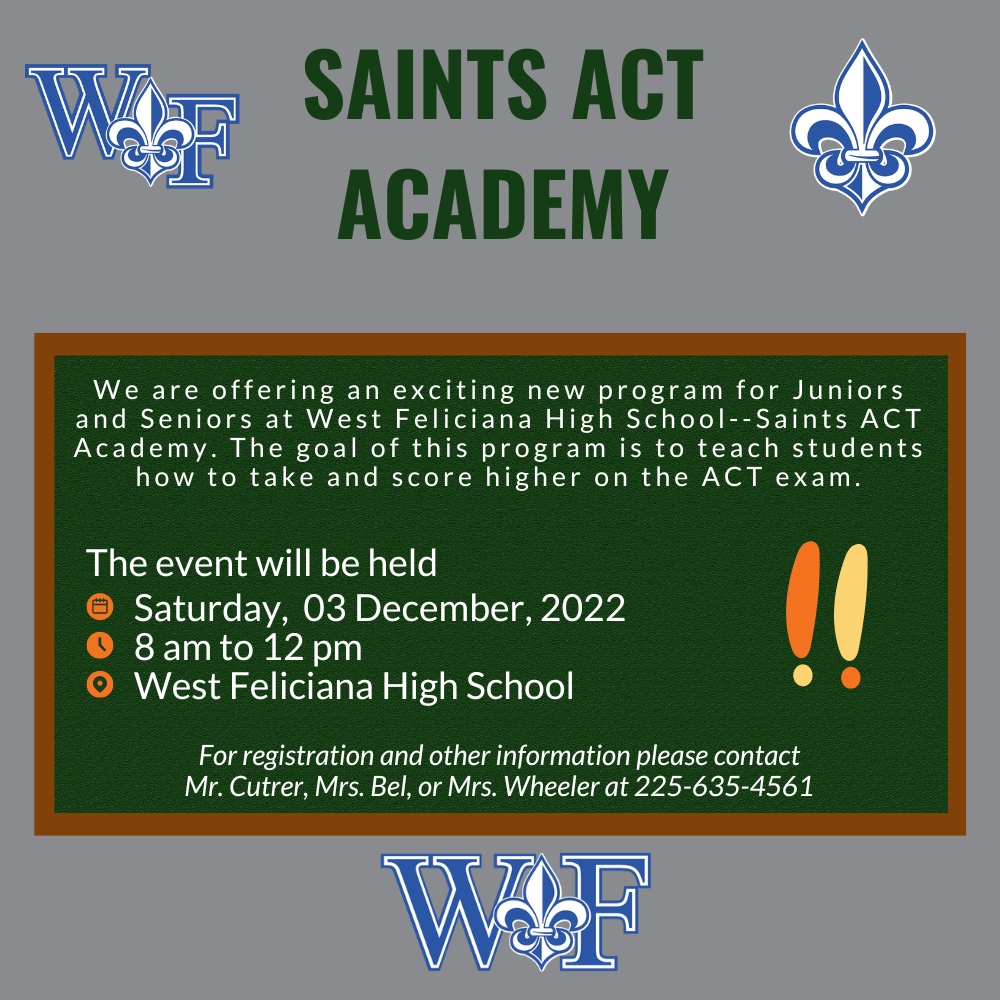 Tonight's student section theme is BLUE OUT! Let's pack Saint's Stadium for tonight's Jamboree against Livonia! Go Saints!!!


Due to the forecast of inclement weather, West Feliciana High School's Graduation Ceremony will be held this evening, Friday, May 13, at 7:30 pm at the West Feliciana High School Gymnasium. Doors will open at 6:30 pm for guests. Each graduate received 10 white tickets to give to guests to enter the gymnasium. ONLY THE WHITE TICKETS WILL BE ALLOWED TO GAIN ENTRANCE TO THE GYM! Every guest in attendance, regardless of age, must have a white ticket to enter. Due to construction, limited parking, and inclement weather, we encourage you to carpool to graduation. Limited parking is available in the student parking lot, the faculty parking lot, the middle school parking lot, and the elementary parking lots. No stadium seats are allowed in the gymnasium. We will livestream the graduation ceremony on West Feliciana High School's Facebook page.

We are carefully monitoring the weather and will send out information regarding the location of the graduation ceremony (stadium or gymnasium) no later than 8:30 a.m. tomorrow morning. Please note that if the ceremony is at the stadium, all 16 tickets may be given out to guests. If the ceremony is in the gymnasium, 10 tickets may be given out to guests. Also, to enter the stadium or the gymnasium, every guest must have a ticket, regardless of age. The ceremony will be live streamed to the West Feliciana High School Facebook Page.

Final exams are May 16-19. Mon-Odd Day (1, 3, 5 exam, 7 exam), Tues-Even Day (2,4,6 exam, 8 exam), Wed- Odd Day (1 exam, 3 exam, 5, 7), Thurs- Even Day (2 exam, 4 exam). Early dismissal on Thursday, May 19.

The Class of 2022 Graduation Ceremony is on Friday, May 13 @ 7:30 pm at the WFHS Stadium. Everyone must have a ticket to attend!!!

Prom tickets go on sale Monday, March 28. The cost is $15 per person and tickets must be purchased online.

Two weeks until midterm exams and three weeks until Christmas break!